Map & Location
5750 E 2nd St
Long Beach, California
90803
Store Hours
Sunday

10am - 9pm

Monday

10am - 9pm

Tuesday

10am - 9pm

Wednesday

10am - 9pm

Thursday

10am - 9pm

Friday

10am - 9pm

Saturday

10am - 9pm
About Us
FIRST TIME PATIENTS RECEIVE FREE Preselected EIGHTH! w/$45 donation. FREE GIFT w/ any donation. HAPPY HOURS TWICE DAILY 10-11am & 4:20-5:20 pm
Naples Wellness Center
2 Reviews
Overall 3.0
Favorite
Dank Daily Deals:


Each day there's a deal. ALL DAY limits may apply. Everyday two top shelf ($20) Grams for $30 And two mid shelf ($15) Grams for $25 - Both Deals Unlimited per visit w/$30 donation... SUNDAY: 10% off ALL day or FREE EDIBLE MONDAY: 20% OFF Select OZ. Or FREE House JOINT TUESDAY: 20% OFF CONCENTRATES WEDNESDAY: Spin the wheel and win a FREE GIFT THURSDAY: 8 Gram Quarters FRIDAY: 20% OFF EDIBLES SATURDAY: 4 GRAM EIGHTHS (except for any on Private Reserve)
EXP: 01/01/2020
First Time Patient Special:


FIRST TIME PATIENTS RECEIVE FREE EIGHTH WITH DONATION OF $45 OR MORE. FREE GIFT WITH ANY DONATION
About Us
TOP QUALITY MEDS

at 5750 E 2nd St.
(around back,upstairs)
PLEASE TAKE A LOOK AT OUR PHOTOS LOCATED NEXT TO THE MAP TAB FOR A BETTER IDEA OF OUR LOCATION !


NAPLES WELLNESS Center Delivery Service
We will now be offering a delivery service dedicated to serving our patient members - or any certified medical cannabis patient with a licensed California Doctor's Recommendation Letter - with a speedy home delivery service for safe and legal access to medical marijuana. Come on in and Sign-UP or give us a call!!!:)
***LARGEST SELECTION

IN LONG BEACH!! :) WE

ALWAYS Have OVER 60 STRAINS


we DO NOT pre-weigh our meds
we offer HALF EIGHTHS
& we SPLIT OUR EIGHTHS!
Other forms of medicating available as well! Capsules, Canna Strips, Gold Mist, Tintures, Edibles, PLUS a great glassware selection!


DON'T MISS OUT!
Comfortable, clean collective with a very knowledgeable staff and plenty of parking in our lot!

All first time patients receive FREE
EIGHTH with minimum donation of $45, FREE GIFT with donation less than $45 -OR- 15% off up to 1/2 oz. New to Naples :)
Open Daily 10am-9pm
Happy Hours 10% Off 10am-11am & 4:20pm-5:20pm
PATIENT APPRECIATION DAY (1st
& 15th of every month)15% OFF UP TO 1/2 OZ &
20% OFF EDIBLES!
TWO TOP SHELF($20)GRAMS FOR $30
TWO MID SHELF($15)GRAMS FOR $25
PATIENT APPRECIATION DAY
EVERY 1st & 15th OF THE MONTH!
-15% off all flowers, 20% off all edibles
Daily Specials (w. min donation)
Sun-10% off all day or Free Edible
Leave us a Review on Weedmaps.com
= Free Joint
Mon-20% off select OZ or Free Joint
Tues-20% off concentrates
Wed-Free Gift
Thurs- 8 Gram Quarters
Fri-20% off edibles
Sat- 4 Gram Eighths
(select meds)
Disability, AARP, and Military 10% off
HAPPY HOURS Ã TWICE A DAY! 10% OFF DONATION !
10a.m-11a.m AND 4:20p.m-5:20p.
5750 E 2nd St, Long Beach CA562.434.9900
Open Daily 10am to 9pm.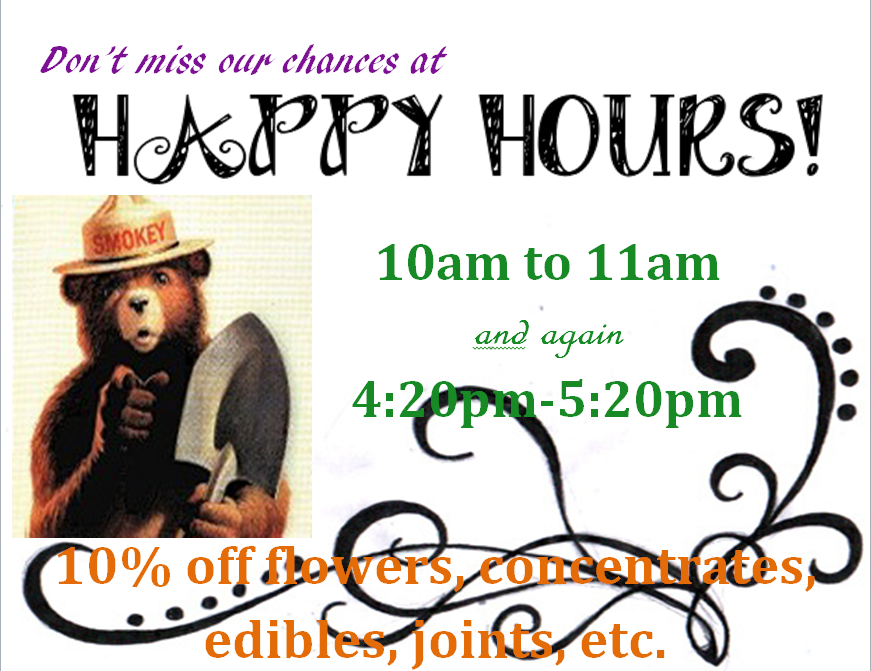 BRING IN A FRIEND, RECEIVE A FREE JOINT!
Reviews
In order to write a review you need to Signup!
| | | |
| --- | --- | --- |
| Naples Wellness Center | 3.0 | |
Flag
| | |
| --- | --- |
| Med Quality | |
| Location | |
| Budtenders | |
| Knowledge | |
| Price | |
Flag
| | |
| --- | --- |
| Med Quality | |
| Location | |
| Budtenders | |
| Knowledge | |
| Price | |
Nearby Dispensaries
Long Beach, CA
1.3 miles away
5 reviews
Long Beach, CA
1.9 miles away
0 reviews
Long Beach, CA
2.4 miles away
2 reviews
Long Beach , CA
2.6 miles away
0 reviews
Long Beach, CA
2.8 miles away
0 reviews
Popular Dispensaries
Top Rated